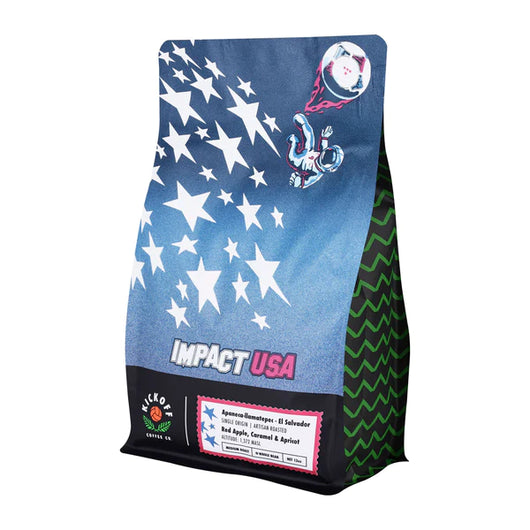 IMPACT USA | Apaneca-Llamatepec Single-Origin
Regular price $ 19.99 Sale
Start your day with this top quality, small batch, artisan-roast from Kickoff Coffee.
We The People, from 'the Land of the Free and the Home of the Brave', enjoy nothing more than waking up to the smell of great coffee and the excitement of American Soccer! With a vibrant specialty coffee culture, fast-growing quality professional domestic soccer leagues, a game-changing Men's National Team that's on the rise, and not to mention the greatest Women's National Team in world soccer history, there's no doubt that soccer has become a passionate American pastime 'From Sea to Shining Sea.'
Impact USA is a collective soccer coffee tribute created by Kickoff Coffee and the American Outlaws supporters group, dedicated to celebrating the beauty of the American game and bringing fans together through great soccer and top-quality artisan-roasted specialty coffee.
Flavor Notes: Red Apple, Caramel, and Apricot

Origin: Apaneca-Llamatepec, El Salvador 

Body: Medium

Acidity: Medium

Process: Washed

Cultivar: Bourbon

Rainforest Alliance
COFFEE THAT IMPACTS! 
Every bag of Impact USA sold will trigger a donation of 10% of proceeds to AO Impact, the philanthropic arm of the American Outlaws, supporting community-driven initiatives to expand soccer across the country.